Internet of Things
Digital data is key – optimized work processes in the office
Author: NTT Communications
Issue 01-2020: read all articles online read as pdf
Tracking occupancy of meeting rooms, cafeterias and restrooms in real time using EnOcean wireless sensors.
In recent years, the working population has been decreasing due to declining birthrates and an aging society, and not only in Japan. Work process reforms and productivity improvements have therefore become a big subject in various industries. NTT Communications is convinced that the usage of digital data provided by the "digital transformation" (DX) is the key to solving those problems. In other words, the evolution from data to "information," or a step further to "intelligence," is one of the necessary factors of the DX.
As one example, the visualization of meeting rooms, cafeterias, restrooms and other shared facilities at the NTT Com headquarters and an accompanying reformation of the work style of office workers led to increased productivity.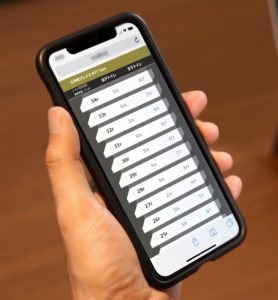 Making life easier for office workers via the IoT
Currently, headquarters has implemented 120 occupancy sensors based on EnOcean technology in the meeting rooms and cafeteria. The IoT platform "Things Cloud" that is an in-house service accumulates data so that the company can detect the presence of people in real time. If no presence is detected in a meeting room during a fixed time, the schedule management system assumes it's not being used and automatically deletes the reservation.
Occupancy sensors are also installed in the cafeteria and free space areas, so that if they need to be used for eating or as a work space, it's not necessary to check them in person. Employees can check online whether a space is crowded or not.
No queues thanks to sensor data
Especially during peak times like lunch breaks, queues at the toilets can be avoided. On the headquarters' 25th-34th floors, NTT Communications installed about 400 EnOcean magnet sensors. Occupancy can be visualized based on the raw data provided. Furthermore, by analyzing the data, cleaning frequency by the cleaning workforce can be reviewed and cleaning times can be planned more efficiently.
Food hygiene management in the cafeteria
In 2020 a food hygiene management method called "HACCP" (Hazard Analysis and Critical Control Points) has become obligatory in Japan. In the kitchen of the in-house cafeteria, appliances such as fridges and hot plates have been equipped with EnOcean-based temperature sensors, thus providing a food hygiene solution for food suppliers.
Concerning the upcoming HACCP, NTT Communications is proceeding with implementing this initiative in the food industry so that incidents are not only recorded, but warnings are also visualized and sent if an abnormality is detected. At food chain stores, regular temperature monitoring and reporting that was previously done by staff is now being handled by DX.