Smart Building
Smart buildings in the context of New Work
Author: Niels Bartels and Gerhard Weilandt, Innovation Managers, GOLDBECK
Issue 02-2020: read all articles online read as pdf
The working world is changing, and the current coronavirus pandemic seems to be speeding things up. This change is also impacting the buildings where people work. The construction and real estate industry is therefore focusing more and more on concepts for both New Work and smart buildings.
The term "New Work" was coined by Professor Frithjof Bergmann in the 1980s. It encapsulates a philosophy of the future of classic wage labor and the way in which people combine their private lives with work. It was therefore not originally a technological term or one involving the direct working environment of workplace design but rather a visionary concept of a new work culture.
Building concepts for smart buildings
The philosopher's guiding question is this: "How do we really, really want to work?" Bergmann emphasizes the repetition of "really". The construction and real estate industry, which plans, builds and operates the workplaces, can supply a crucial part of the answer to this question. After all, tailor-made building concepts and smart buildings form the spatial basis for transforming the work culture. They can help turn the vision of "how we really, really want to work" into reality.
GOLDBECK provides a variety of room concepts for this purpose, and customers can choose the right one for their purposes. In addition to the concepts of open space and 1-, 2- or 4-person offices, the company also offers teamwork spaces, quiet work spaces and social meeting points. New work spaces are also integrated into the work areas.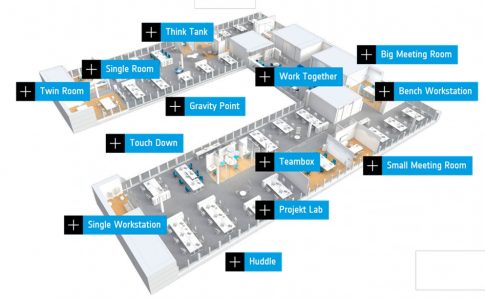 Thinking New Work through to the end
But is this really New Work? We think that New Work will do a whole lot more. The customization opportunities for the individual employee can be driven by smart buildings. For example, computers and smartphones are key work tools in today's office routines. Workstations can now be reserved online from home using a smartphone or PC. However, the ability to automatically record and process these workstations is also required.
Smart buildings can manage the individual workstations and make them available, for example, in a booking system. As a GOLDBECK partner, EnOcean provides part of the sensor system needed to do this. Existing partnerships and standards already in use, such as EnOcean, will be integrated into the smart building solutions. GOLDBECK is developing an integrated New Work portfolio for its customers, with the sensors, automation programs and appropriate work areas working closely together.