Smart Spaces
Aruba: The Hyperaware Workplace is open for business
Author: Michael R. Tennefoss, Vice President of Strategic Partnerships, Aruba, a Hewlett Packard Enterprise company
Issue 02-2021: read all articles online read as pdf
A long-time employee, Monique, returns to her workplace for the first time since the outbreak of the COVID-19 pandemic. Corporate infection management and contact tracing protocols are in place to ensure a safe employee experience. As Monique enters the building, she wonders if any of the hot desking cubicles are clean and ready for use. The first cubicle has a yellow light indicating it's occupied. The second has a red light showing it needs cleaning. However, the third cubicle has a green light so Monique knows it's available for her use. She sets her smartphone on a landing pad, and instantly the light turns yellow and she receives a text reserving the space.
At lunch, the cafeteria starts filling up with employees. As she enters the room, Monique wonders if there's sufficient airflow to safely accommodate so many people. She soon feels the fresh airflow, and sees the current air quality rating – "Excellent" – displayed on a monitor.
App for effective use of space
After lunch, Monique needs to meet with a colleague for an impromptu conference. She looks at a smartphone app that displays which rooms are unoccupied and how to get there. She selects an empty room and when she enters it, the app updates to show that the room is occupied and a light outside the room turns yellow. Once the conference ends and the room is unoccupied, the light turns red and a cleaning crew is dispatched to clean the space.
Monique works in a hyperaware building with an IT infrastructure equipped with the Aruba Edge Services Platform (ESP), which converges IT, IoT, and operation technology (OT) to create situational awareness. Virtually every Aruba Wi-Fi 5 and Wi-Fi 6 Access Point ever sold supports EnOcean USB 800/900MHz adapters, meaning that EnOcean-based IoT devices can be quickly and inexpensively added to both new and existing deployments. ESP bi-directionally streams EnOcean IoT data to and from building automation and business applications, helping them understand the current environment and projected future environments.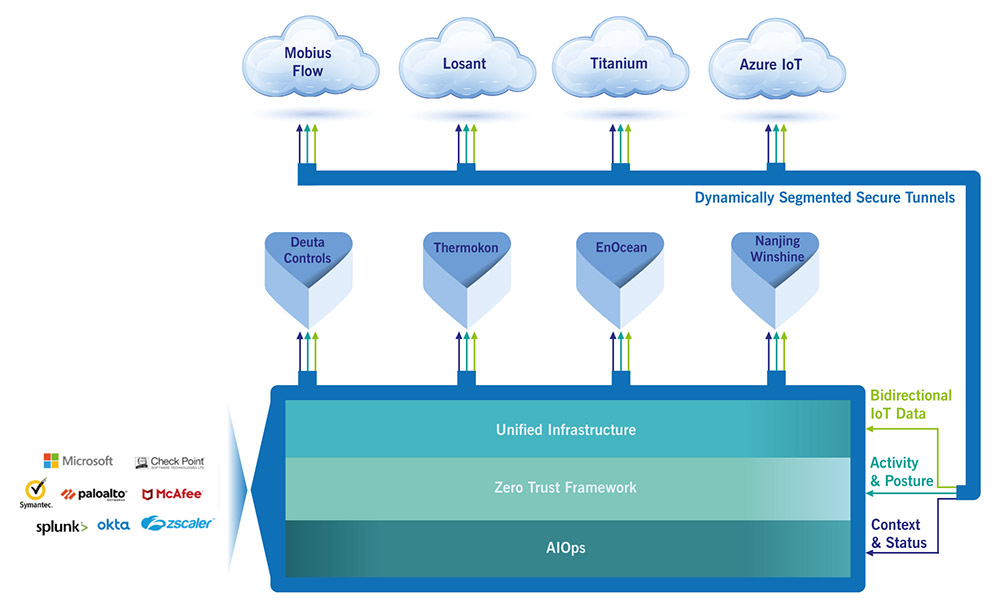 Real-time information for a hyperaware system
The IoT and OT device data is the eyes and ears of these applications, while contextual information (identity, location, applications in use, and security posture) from ESP informs applications in real time about the occupants. The conjunction of data and context creates hyperawareness that better informs decision making. Plus, the hyperaware metadata can be shared, making it simpler to use new applications like Aruba's contact tracing solution without ripping out and replacing infrastructure.
Interoperable devices for many use cases
In Monique's building, ESP interfaces with Deuta Controls' EnoPuck workspace occupancy sensors, Thermokon's demand-oriented ventilation devices, EnOcean room occupancy sensors, and Nanjing Winshine cleaning management solutions. Occupancy management is handled by iaConnects' MobiusFlow application, while core building automation, lighting, energy, and security services are handled by Titanium Intelligent Solutions. Other application workloads sit in the Azure IoT cloud and use Aruba's IoT Transport for Microsoft Azure to securely stream data to and from the Azure IoT Hub.
Each vendor's solution has been certified by Aruba for interoperability, allaying the Chief Information Officer's concerns about compatibility. ESP dynamically segments IoT communications over secure tunnels, addressing the Chief Information Security Officer's mandate for a zero trust framework.
https://www.arubanetworks.com/solutions/hybrid-workplace/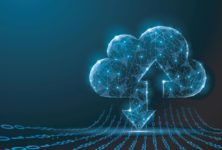 Smart Spaces