Smart Home
Smart home for comfortable living
Author: Ulrich Ziegler, Chief Business Development Officer, Eltako
Issue 01-2020: read all articles online read as pdf
With its new series 64 wireless actuators, Eltako Professional Smart Home has reached the next stage of evolution. Controlling the actuators for teach-in and switching/dimming is now possible with not only EnOcean wireless switches as well as wired switches but also directly via the WiFi home network using a smartphone.
Since the devices are real latest-generation IoT products with a dedicated IP address, users can also remotely access them via the Internet. All smartphone connections are highly encrypted and therefore extremely secure. WiFi, Bluetooth and EnOcean can be completely deactivated for offline-only operation.
Ready for future developments
The new series 64 actuators can be updated right from the start. Enhanced firmware – the software needed to operate the devices – can be loaded from a smartphone as well as from the Internet via WiFi. As a result, the actuators are absolutely future-viable and open to market developments down the road. All settings can be downloaded and also transferred to other actuators as needed.
The series 64 actuators are Apple-certified and can therefore already be easily integrated into Apple HomeKit™ – including voice control. Google Assistant, Amazon Alexa and other systems are also provided for integration following a firmware update.
Overview of the new actuators
Four new series 64 flush-mounted actuators are available immediately: a wireless universal dimmer switch, non-floating and with an N-type connector, FUD64NPN/110-240V; a wireless pulse switching relay, 16A, non-floating, FSR64NP/110-240V; a wireless pulse switching relay, 16A, non-floating, FSR64PF/110-240V as well as a wireless shading actuator for a venetian or roller blinds motor up to 4 A/250V, non-floating, FSB64NP/110-240V.The FSR64NP and FSB64NP types are additionally equipped with a measuring IC for measuring power.
When it comes to the control functions with EnOcean wireless switches and wired switches, series 64 is fully compatible with series 61 and series 62 as well as the Eltako tap-radio system and the series 14. They use the perfected tap functions for conventional teach-in with a switch and without an app, which means that they don't require any manual settings on the actuators. Plug-in terminals up to 2.5 mm² in size make the devices easy to connect. The installation depth in flush-mounting boxes is only 23 to 25 mm.
New Eltako app for remote control in smart homes
Eltako has developed a new app to accompany all everyday processes in the smart home. It can be used to set, trigger and control all functions of the smart home easily via smartphone. The new Eltako app is thus a universal remote control that allows all systems in the house to be connected and operated centrally via a user interface.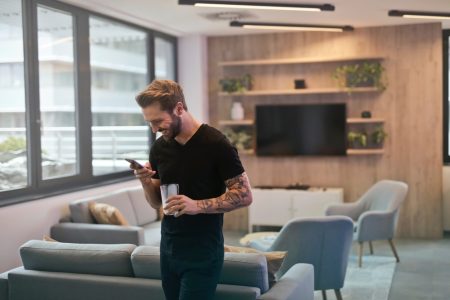 Lighting, shading, security and air conditioning can thus be adapted to personal needs without much effort and controlled individually at any time.