Smart Building
Direct communication with smart home systems, thanks to 2.4 GHz enhancement
Author: Thomas Rieder, CEO, ViCOS
Issue 01-2020: read all articles online read as pdf
The ViACT platform from ViCOS has taken up permanent residence in professional installations and in the smart home. The flush-mounted actuators for lights, ventilation and shading are a key element in room-centric building networks with EnOcean wireless technology.
ViACT now also supports the 2.4 GHz wireless range. This gives the ViCOS actuators the ability to communicate directly for the first time with the smart home systems from Amazon, Apple and Google. ViACT also communicates directly with the PTM 215B self-powered switch module as well as the EMDCB battery-free motion detector, both of which are 2.4 GHz EasyFit products from EnOcean GmbH.
ViACT can be integrated into all known EasyFit-compatible switch programs. This unique decor capability forms the basis for the successful product platform.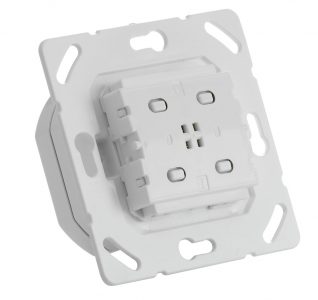 Professional commissioning
The ViACT functionality and reliability during operation and wireless EnOcean communication ensure customer satisfaction, as does the ability to fully commission installations that use ViACT as the actuator system.
ViCOS offers its OEM customers the EnOcean ConfigTool for commissioning, which also permits installation and service work in the field as well as comprehensive electronic documentation for an installation. ConfigTool is based on the remote commissioning function standardized by the EnOcean Alliance and supports not only ViACT and ViSENS – the sensor platform from ViCOS – but also many other interoperable 868 GHz EnOcean products. These 2.4 GHz products and the associated NFC interface will be added to the EnOcean ConfigTool by the middle of the year.