Smart Building
Honeywell PEHA: Wireless system for energy-efficiency and flexible room use
Author: Dominik Kirylo, Customer Marketing Leader EU, Honeywell PEHA
Issue 01-2021: read all articles online read as pdf
When the conversation turns to EnOcean wireless technology, the question of specific applications quickly arises. The desire to control lights, blinds and room temperature, along with the energy-efficient and flexible use of rooms, often tops the list of priorities addressed by facility and real estate managers. This can be quickly realized even in existing buildings, using the solutions from Honeywell PEHA.
Wireless installations deliver flexibility and a variety of functions
Office and commercial buildings need a lighting, sun shield and heating system that is reliable, energy-efficient and requires as little maintenance as possible. In addition, the system should be flexible so that appropriate adjustments can be easily made in the event that room use changes. The COVID-19 pandemic, in particular, has focused a great deal of attention on flexibility in office buildings. Not only do employees need to maintain a safe distance from each other, but companies also have to respond to changing space requirements.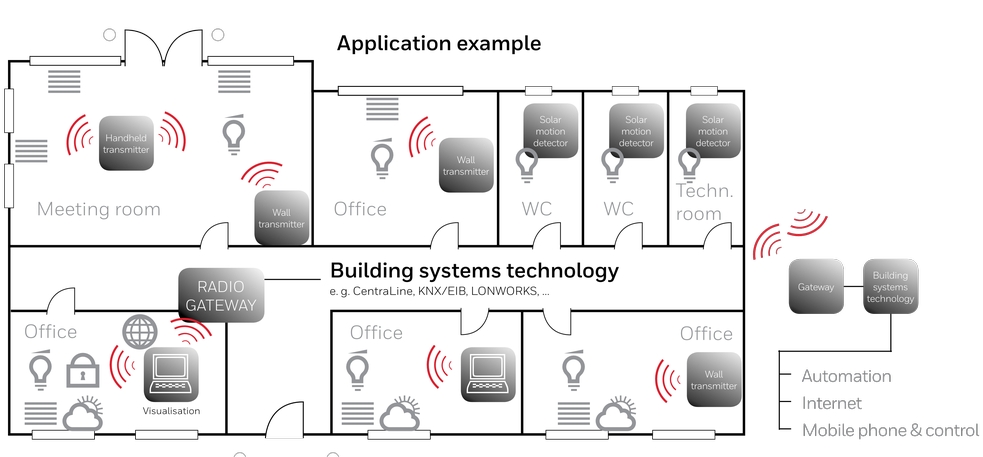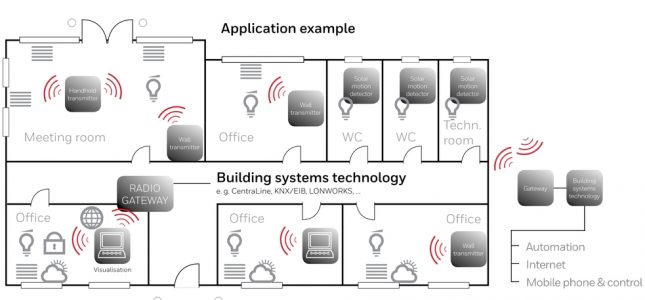 Decentralized wall switches and flush-mounted receivers
A decentralized solution with wall switches and flush-mounted receivers allows the receiver functions to be customized. The wireless wall switches are simply glued in place, which is an enormous advantage particularly for installation in office rooms with a lot of glass or when reorganizing the space. With the Easyclickpro wireless system, entire open-plan offices can be readily converted into separate areas within a very short period of time. The self-powered transmitters are completely maintenance-free and compatible with many building automation systems with an EnOcean interface.
Benefits of the Easyclickpro wireless system
Wall transmitters are simply glued on
Transmitters are self-powered and wireless, making them maintenance-free
A variety of functions increases comfort and energy efficiency
Compatible with many building automation systems
Group/central and scene functions are possible
Motion detectors can be integrated
Honeywell PEHA webinar presentation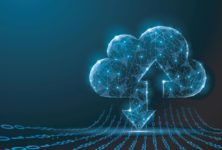 Smart Spaces