Smart Building
The third generation of SAUTER EnOcean room operating units
Author: Roland Hofstetter, Product Manager Building/ Room Automation, SAUTER Head Office
Issue 01-2021: read all articles online read as pdf
The room climate can be easily and individually adjusted thanks to local operating units and push-button sensors. The SAUTER ecoUnit 1 product range is based on EnOcean battery-free wireless technology and is suitable for a wide range of applications in room automation. Old building standards, state-of-the-art glass architecture or longer periods of darkness – nothing stands in the way of using EnOcean wireless room operation units from SAUTER.
The wireless and self-powered room operating units, which are part of the SAUTER modulo system family, have been given an all-round makeover. The new generation of operating unit, room sensor and EnOcean gateway boasts high-quality electronics and improved product features.
Maximum flexibility – minimum life-cycle costs
The ecoUnit146 room operating unit is equipped with "Smart Acknowledge" technology that allows the automation station to receive the temperature value, setpoint offset or button actuation of the room control unit. It can also display states and other actual values or status information on the ecoUnit146's LCD display or even reset the setpoint offset.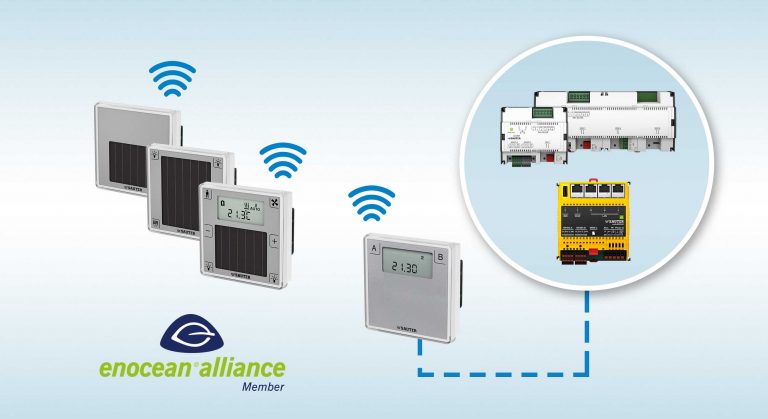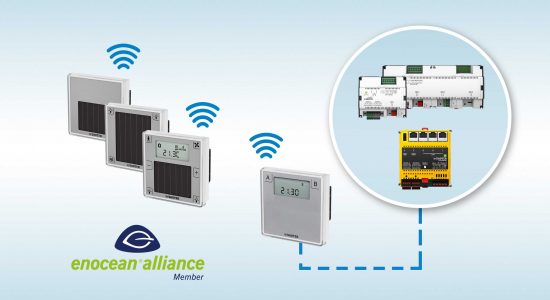 The ecoUnit110 room sensor has a digital temperature sensor and is compatible with third-party EnOcean interfaces. Both the sensor and the operating unit have a particularly large solar panel which, combined with the built-in energy storage, can easily bridge especially long, dark phases, e.g. long weekends.
The third device in the series, the ecosCom581 EnOcean gateway, can be integrated smoothly into SAUTER's automation system. It can be ideally placed in a remote location in the room via the RS-485 bus (SLC), has an updated platform with the latest micro-controller, and is updatable, making it possible to extend the new EnOcean Equipment Profile (EEP). The product range is rounded off by the push-button unit with an ecoUnit106 solar panel, which can be used as an extension.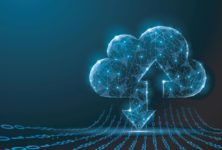 Smart Spaces