Smart Spaces
T-Systems: From smart spaces to power spaces
Author: Nicolle Quaitsch, Head of Center of Excellence Microsoft, T-Systems MMS and Tino Mager, Senior Azure Architect, T-Systems MMS
Issue 01-2022: read all articles online read as pdf
Isolated solutions, new platforms, and the ongoing digitalization of buildings – what kinds of solutions are available for the real estate industry?
Landlords, homeowners, and tenants use sensors, gateways, digital (wireless) networks, and core systems (ERP) to pursue a variety of goals, such as monitoring building infrastructure, digitally recording consumption, enabling access control, or making workstation reservations. The essential part of this process is that data is created that comes together on different platforms – and thus in silos.
The raw data relating to area and room usage, for example, comes from the wireless EnOcean sensors. They are self-powered and use energy harvesting technology to operate without cables, batteries, or external power supply. This data has to be brought together with the core systems of the company (such as CRM or ERP systems) so that it can be analyzed in the proper context. This approach, for example, allows the data to be directly incorporated into space management as a basis for evaluation. The direct integration of the individual solutions into the core systems is usually expensive, maintenance-intensive, and hence not very attractive.
All in all, this results in an IT zoo revolving around actual core data management, with the associated challenges of manual synchronization and bringing data together without losses. Discussions with stakeholders and the Smart Spaces team at T-Systems MMS resulted in a new approach. Both customers and stakeholders expressed their desire to establish a data-driven and standardized model.
More data for more comprehensive building management
An expansion was made based on the Smart Spaces solution from T-Systems that allows the data from the various individual systems to be merged into a uniform digital image. A business process framework layer was integrated into the solution to control and incorporate relevant data into company processes. In addition to monitoring and booking rooms and workstations, it is now also possible to integrate ticketing processes and process catering orders.
This creates new use cases for implementing efficient building management. For the real estate industry in particular, it is important for services and systems to be able to exchange information with each other so that they can act quickly – for example triggering a contractor's order based on IoT data. This is made possible by a standardized data model that ensures interoperability when different manufacturers and service providers connect to the platform. The decision was made in favor of the International Building Performance & Data Initiative (IBPDI) because it relies on existing standards already utilized on the market and develops a uniform data language for international use.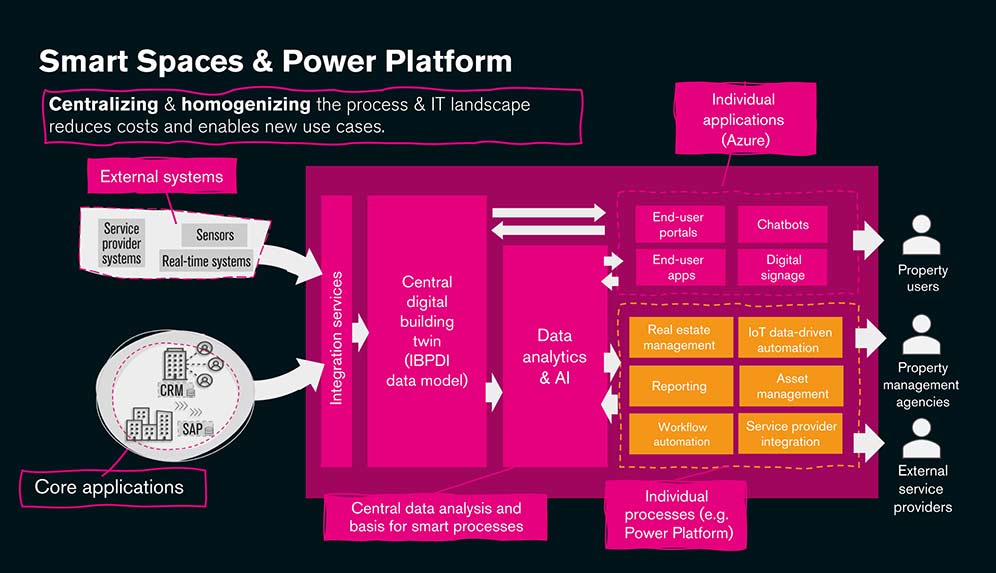 The diagram depicts a rough architecture of the Power Spaces solution from T-Systems MMS. The Power Spaces solution makes it possible to provide the former IT zoo with various individual applications and apps in a central and homogeneous manner. All services from external providers, such as the IoT data from EnOcean as well as the company's core application, are connected via various integration interfaces and then incorporated into the digital twin. This wealth of data and information results in new services for property users and property management agencies as well as for external service providers. Moreover, these services can be provided on the platform as an application or via Power Platform.
What does this look like in practice?
Examples include end-user portals or apps that enable employees to make digital room or space bookings or display the occupancy levels in the cafeteria. Management is able to see how heavily the rooms are being used, what cleaning intervals are necessary, and how this affects energy costs. The integration of the Microsoft Power Platform is a new feature. The existing data and process capabilities facilitate data-driven decision making and activities, such as:
Decisions to initiate or terminate leases
Energy-saving opportunities
Automated communication with affiliated service providers, such as commissioning contractors for a defective window or service technicians for elevator maintenance
Manual workflows are replaced by automated workflows in a low-code environment. This means, for example, that regular information is sent to the responsible parties regarding when the next fire safety inspection will take place.
As the volume of data increases, so does the number of use cases that can be implemented for the efficient digital management of a building. Due to the current pandemic situation, it is important for the customers of T-Systems MMS to learn how spaces are being used and how an optimal workplace experience can be created. The important thing is that employees be offered a safe workplace in accordance with hygiene guidelines.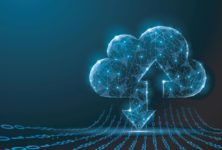 Smart Spaces