Industry
Vibration sensor for monitoring operation and failure of plants
Author: Yasuhiro Udagawa, Japan Microsystems Inc.
Issue 01-2022: read all articles online read as pdf
Dhowa Technos and Japan Microsystems offer a battery-free, wireless vibration and temperature sensor with EnOcean radio. The device uses a solar cell as energy harvester, which means it doesn't require an external power supply. It regularly transmits the vibration and temperature data measured via EnOcean's wireless radio standard.
Two probes with integrated vibration and temperature sensors can be connected to one vibration sensor, making it possible to measure vibration and temperature at two locations with a single unit.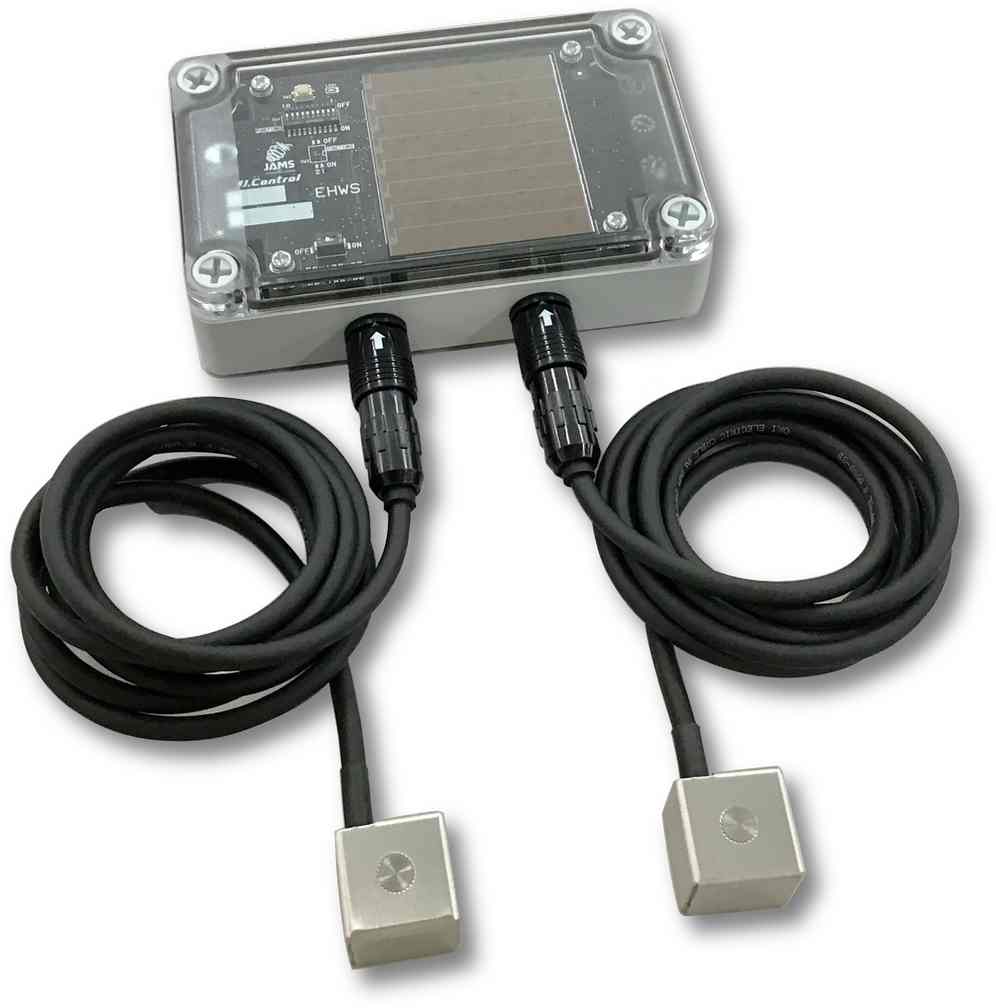 Rather than capturing the momentary value, the vibration sensor measures several hundred times within a certain time frame. These values provide information on total vibration, including positive/negative peaks in both directions. They can be used, for example, to diagnose failures and age deterioration.
Measuring vibration at predetermined intervals and enabling all-day measurement
The vibration sensor wakes up at specified intervals and continuously measures hundreds of acceleration points in one measurement. This means that the values of the three axes x/y/z are measured at the same time and two channels are measured sequentially in one measurement.
The measurement result is sent via EnOcean radio and then the sensor sleeps until the next measurement. If the appropriate interval is set, continuous measurement (24 hours a day, 365 days a year) is possible even in places where lights are turned off at night, thanks to the power stored in the solar panel.
Wireless, dust-proof and waterproof – making it easy to install in various environments
The main body provides IP65 protection, meaning it is dust-proof and drip-proof. The pickup part is sealed with silicone resin and is also dust-proof and waterproof. The sensor data is transmitted wirelessly via EnOcean radio. It's powered by a solar panel with an internal capacitor that stores energy. Sealing the device completely is no problem. Because of this setup, it can be positioned in a variety of environments.
Example – installing the vibration sensor on a motor
Monitoring 18 mill motors in a rolling line over 100 m long in a steel mill
Vibration and temperature sensors: 45 units (38 EnOcean transmission units)
J-Connect repeaters and receivers: 4 units
Collected data: vibration and temperature are collected at 12-minute intervals.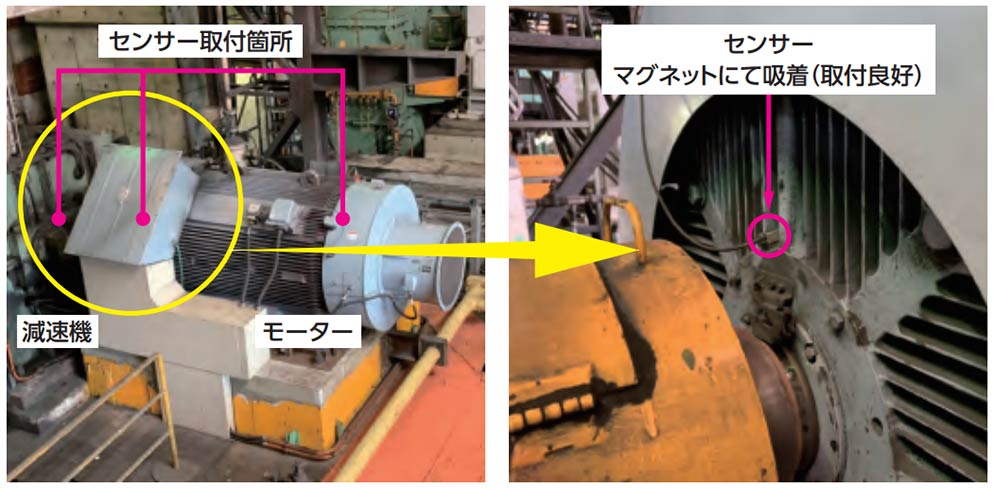 Sensor location
Decelerator
Motor
Sensor: held by the magnet (easy mounting)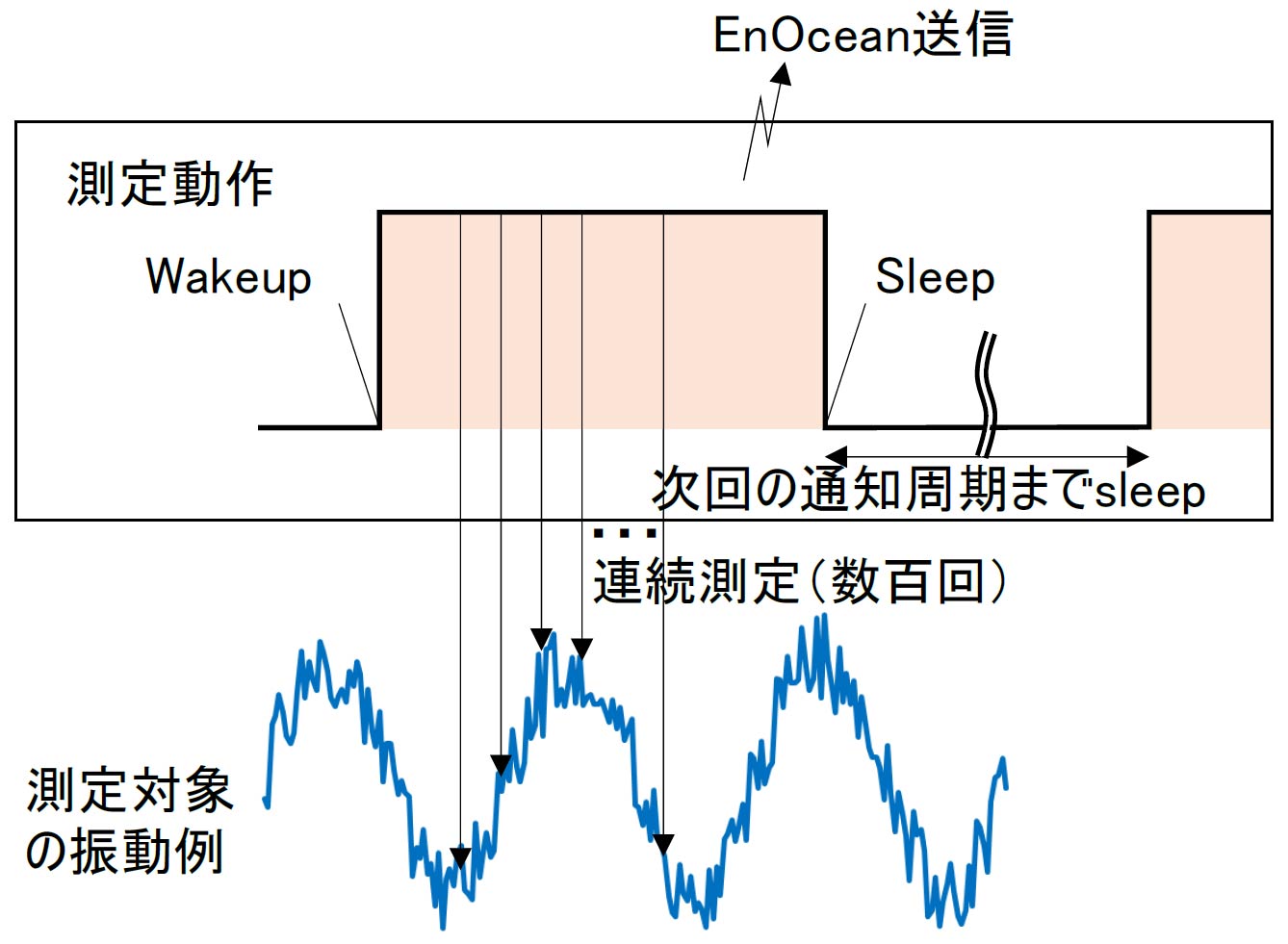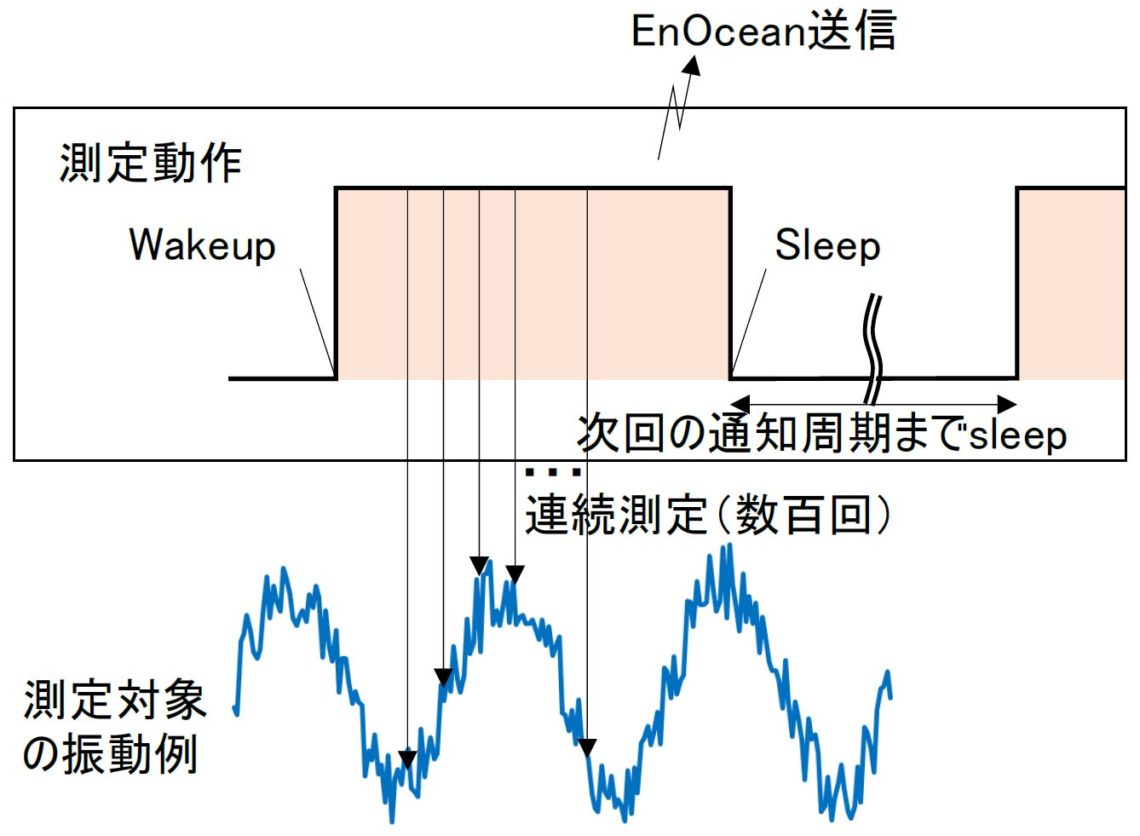 EnOcean radio transmission
Measurement operation
Sleep until next notification cycle
Continuous measurement (several hundred times)
Example of target-value measurement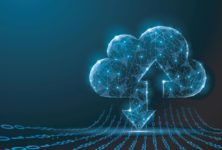 Smart Spaces