Smart Building
Residential complexes in Prenzlauer Berg, Berlin
Author: Uwe Asbach, Managing Director, Riedel Automatisierungstechnik
Issue 02-2019: read all articles online read as pdf
The residential complexes around Ostseeplatz in the Berlin borough of Prenzlauer Berg consist of six four-story apartment buildings with a total of 224 units. Until 2015, every apartment was equipped with gas heating systems on each floor or on the exterior wall. However, the maintenance and repair costs of this solution were extremly high. For this reason, a planning office was commissioned by the "Zentrum" eG residential cooperative to investigate a variety of supply systems that offered alternative and future-oriented solutions in terms of energy consumption and cost.
Lower costs, higher efficiency
After thoroughly evaluating all the options, the residential cooperative chose to install a combined heat and power (CHP) unit with a parallel gas heating system.
The CHP unit and peak load boiler were installed in a central location for the supply area and have since provided thermal energy for heating and hot water to all homes via a district heating network.
Smart living with RIEcon SmartBuilding
Thanks to the decentralized RIEcon energy management system, use profiles and default settings defined by the residents are aggregated for each room or apartment and the heating curve of the central heating system is continuously optimized.
For this purpose, the installed WohnungsManager (Home Manager) system communicates with all connected technical installations via cables or EnOcean wireless technology, which is a particularly interesting approach for existing buildings.
For example, if the integrated EnOcean temperature sensor measures the room temperature in one apartment and senses that it deviates from the defined setpoint, WohnungsManager forwards the command to regulate the temperature to the wireless radiator valves of the heating system.
Since the system "knows" the heating requirements received from the apartments and compares them to the measured temperature, it can forecast the heat demand for the coming hours based on weather data. In some circumstances, the boiler capacity is, for example, reassessed based on the aggregated data. In this way, the artificial intelligence stored in the system makes heating regulation energy- and resource-efficient.
Considering the high degree to which the living quality is optimized, it comes as no surprise that a survey showed high tenant satisfaction with both the modernization measure and the RIEcon WohnungsManager system.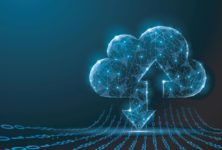 Smart Spaces