Smart Building
More comfort in a smart building with Zigbee 3.0
Author: Arasch Honarbacht, Managing Director, Ubisys technologies
Issue 02-2019: read all articles online read as pdf
ubisys has integrated the latest generation of EnOcean's self-powered switch module for Zigbee Green Power in its platform for home and building automation. This solution allows implementing a variety of convenient controls in residential and commercial buildings.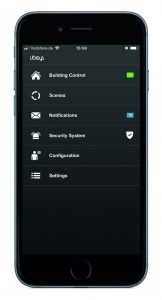 The self-powered PTM 216Z switch module from EnOcean is the first battery-free switch module that meets the criteria of the new generic switch standard in Zigbee Green Power. The ubisys smart building platform is already in use at Vivawest Wohnen GmbH and in projects of the Swedish lighting manufacturer Nokalux.
Flexible solution for residential and commercial buildings
Vivawest Wohnen GmbH, one of the largest residential providers in North Rhine-Westphalia, is already using the Zigbee solution from ubisys with self-powered switches in retrofit projects and new buildings in the Bochum residential quarter Hermannshöhe.
Dr. Rainer Fuchs, Head of Strategy at Vivawest Wohnen GmbH: "As an innovative housing company, we did not just want to merely talk about the smart home of the future. Together with ubisys, the smart home will become a reality in rented multi-floor residential buildings in the second half of 2019. In advance, we tested three apartments in Essen with the ubisys smart home system to verify its use in existing properties.
Both sides have learned a lot, especially with regard to mapping the processes of a smart apartment's rental and management. The battery-free EnOcean switches enabled us to provide tenants with scenarios such as 'all lights off' or 'coming home' in the apartments' entrance area with minimal effort using maintenance-free switches. For us, the latter is an inestimable advantage for long-term management."
Lighting know-how from Sweden
The Swedish company Nokalux develops and produces luminaires for the Nordic market. With its own sheet metal and plastic processing plants, it controls the entire production chain and can therefore react very flexibly to new developments.
"At Nokalux, we had an opportunity to test the ubisys gateway and the EnOcean switch in connection with new wireless sensors from Signify in the commercial lighting space," says Håkan Jordanson, Technical Manager at Nokalux. "The system was easy to set up and group, making it usable by average end customers. They remain in full control of their project. We see this as a nice fit for small offices and schools, with the clear potential to scale to large deployments later on."
Commercial properties, including offices, warehouses and production halls as well as hotels, schools, hospitals and other public buildings, also benefit from the extensive range of solutions that can be implemented using Zigbee components from ubisys and EnOcean – with or without connection to the cloud, whether decentralized and locally mounted or centrally managed and globally connected. The solution is easily scalable and usable worldwide, thanks to the license-free 2.4 GHz band.