Internet of Things
Is a person leaving or entering a building? The EnOcean People Counter knows
Author: Ronald Conen, Manager Software Solutions, IMBuildings
Issue 02-2020: read all articles online read as pdf
IMBuildings is extending its product range with a new People Counter that uses the wireless EnOcean protocol. The sensor system works with infrared technology. The principle is based on the interruption of a horizontal infrared beam.
This means that no cameras are installed and no personal data is gathered for counting the people passing by. Therefore, the system is automatically compliant with the European data protection laws (GDPR).
The counter set consists of two parts: an infrared (IR) transmitter and an infrared receiver. The IR transmitter sends the infrared signal and the IR receiver receives the intelligence and establishes communication with the outside world.
The IR transmitter points the IR beam horizontally towards the IR receiver at a recommended height. When this beam is interrupted, the algorithm determines if a person passed the sensor. Additionally, it detects the direction of movement. This makes it possible to know which direction the person walked through the beam. This data can be used, for example, to learn whether a person was leaving or entering a building. Counts of the two directions are stored separately.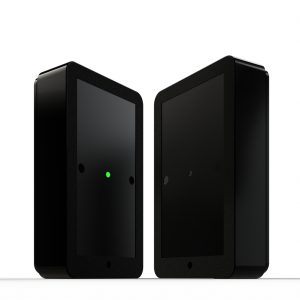 Key benefits at a glance
Wireless solution, ideal for retrofit
GDPR-compliant
Up to 8 meters sensor coverage
Two detection beams detect direction of movement
No need for setup or calibration
The collected data can be used to make strategic operational and marketing decisions. IMBuildings offers a counting system in four dimensions that makes it possible to create an accurate motion map of an area.