Smart Building
One-stop turnkey solution for building control
Author: Jason Mills, Marketing and Communications Director, KMC Controls
Issue 02-2020: read all articles online read as pdf
KMC Conquest series controllers are designed to operate HVAC and other building automation system equipment. With integrated alarming, scheduling, and trending, these fully programmable and interoperable BACnet controllers are powerful edge devices for the modern smart building ecosystem.
Wireless gateway supports EnOcean
By taking advantage of EnOcean's radio standard, KMC's new Conquest Wireless Gateways (HPO-9007) enable quick, easy communication between Conquest Controllers and KMC's new Conquest Wireless Sensors (STW/THW series temperature sensors with optional humidity sensing and setpoint adjustment), as well as other third-party EnOcean wireless sensors. KMC opted to use EnOcean's radio standard because the technology combines energy harvesting with ultra-low power electronics, allowing energy harvested from the installed environment to power the device. In many applications, these devices may operate without requiring a battery. This makes the EnOcean standard ideal for facilities where it is inconvenient to run wire, such as historic buildings or multizone spaces.
KMC's new Conquest Wireless Gateways and Sensors use solar to harvest energy for operation; each sensor has a battery backup option for applications in low or inconsistent light. KMC Conquest Wireless Sensors are available in 902 MHz for North American installations and 868 MHz for European applications. Conquest controllers and the new Conquest Wireless Gateway are configured to map data from sensors directly to BACnet objects.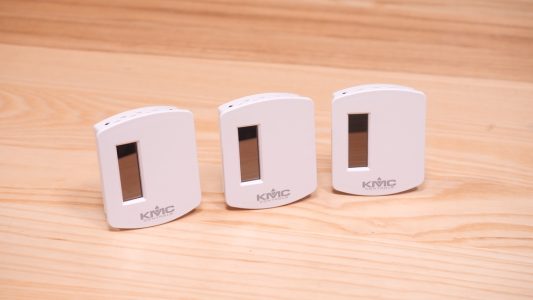 Up to 16 sensors per gateway
The gateways plug into the room sensor ports on KMC Conquest controllers using standard Ethernet cables. Because EnOcean uses equipment profiles, known as EEPs, to recognize different types of wireless devices, each gateway can connect with up to 16 EnOcean sensors.