Smart Building
Contemporary Controls' EnOcean to BACnet gateway simplifies the bridging of two worlds
Author: Bennet Levine, R&D Manager, Contemporary Control Systems
Issue 02-2021: read all articles online read as pdf
Contemporary Controls' EnOcean to BACnet gateway makes it possible to combine EnOcean devices and BACnet networks. Each EnOcean device appears in BACnet as a single virtual device via the gateway.
For example, to learn the status of an EnOcean temperature device, the user would first instruct the gateway to listen to messages from this device. EnOcean device discovery can occur when it transmits a message, or its information can be entered directly into the gateway. The gateway then creates a virtual BACnet device whose status is the value transmitted by the temperature device.
This process can also be applied in reverse by making the EnOcean gateway appear as a virtual EnOcean device in order to integrate and control real EnOcean devices, such as an EnOcean relay. This creates a virtual BACnet device which, when it communicates via BACnet, will cause the gateway to act like the virtual EnOcean device and transmit a message to the connected EnOcean relay. The gateway can control a large number of EnOcean devices based on commands from the BACnet network. For example, to program your building control system to automatically turn off facility lights at night, you can use EnOcean LED relays to control lights, use wireless switches to control the LED relays, and then connect the gateway to the LED relays.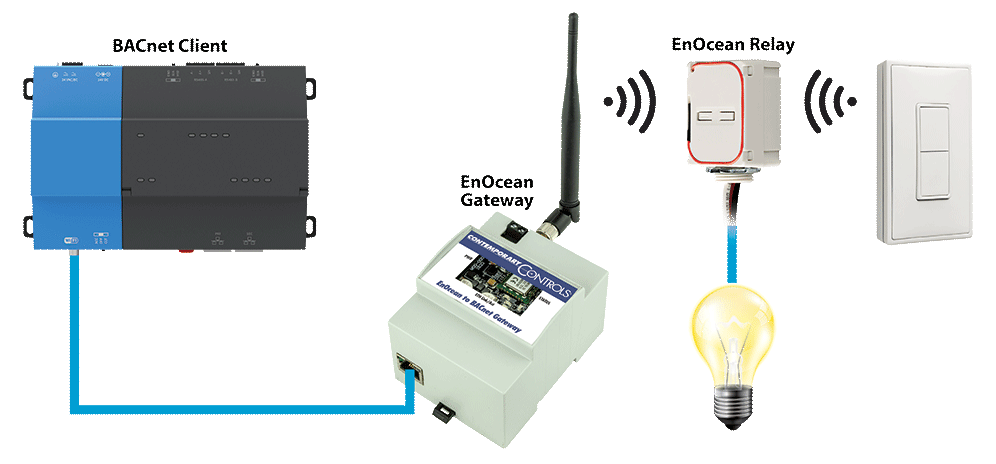 The gateway can send a learn message to allow its virtual EnOcean device to be connected to any EnOcean output device. It can configure the link table of many EnOcean output devices and insert its own entry into the table via remote commissioning. It can also add other devices to the link table to simplify the EnOcean linking process. The gateway provides diagnostic information, including signal strength and time since the last message was received.