Smart Spaces
Self-powered IoT solution implemented at IBM Guangzhou
Author: Marketing Department, Interfühler Automation (Shanghai)
Issue 02-2022: read all articles online read as pdf
When IBM joined the EnOcean Alliance as a Promoter Member in 2016, it significantly expanded the EnOcean Alliance and strengthened its program in building automation and the Internet of Things. The EnOcean Alliance and IBM are working hand in hand to define and expand the standards for self-powered solutions for the IoT.
Recently Interfühler's EnOcean-based solution was successfully implemented by the IoT retrofit project for IBM's Guangzhou office. The building is located in the core area of Guangzhou CBD – GT Land Plaza, which will be the iconic core of Guangzhou in the future.
Interfühler received a project inquiry from the customer that called for the integration of various sensors in the office area of IBM's Watson IoT Platform, including workstation sensors, indoor temperature and humidity sensors, air quality sensors, people counting sensors, water leakage sensors, UPS alarm sensors, etc. The aim was to create a self-powered, EnOcean-based sensor solution that enables maintenance-free building management, and to improve the operational, financial, and environmental performance of facilities.
Thanks to the blueprint created by EnOcean and IBM for the IBM Watson Center in Munich, Germany, as well as the Interfühler team's extensive experience with implementing the EnOcean solution in China since 2009 – including many large-scale projects such as JP Morgan Chase, BMW Factory, National Exhibition and Convention Center, etc. – Interfühler's proposal was quickly submitted and approved.
The project mainly uses desk occupancy sensors to detect the occupancy status of workstations. This type of sensor is increasingly popular in applications for optimizing building efficiency, such as analyzing workstation utilization and quickly searching for vacant workstations. Multisensors for indoor temperature and humidity, CO2 & VOC, and formaldehyde also serve to ensure a healthy and comfortable office environment in real time. In addition, occupancy sensors and people counting sensors are used to detect the occupancy status of public areas, such as conference rooms, storage rooms, and cafeterias. All this sensor data can be uploaded directly to the cloud via the IoT gateway and can also be linked to the localized lighting and air conditioning system via a KNX gateway in order to improve the comfort level and minimize energy consumption.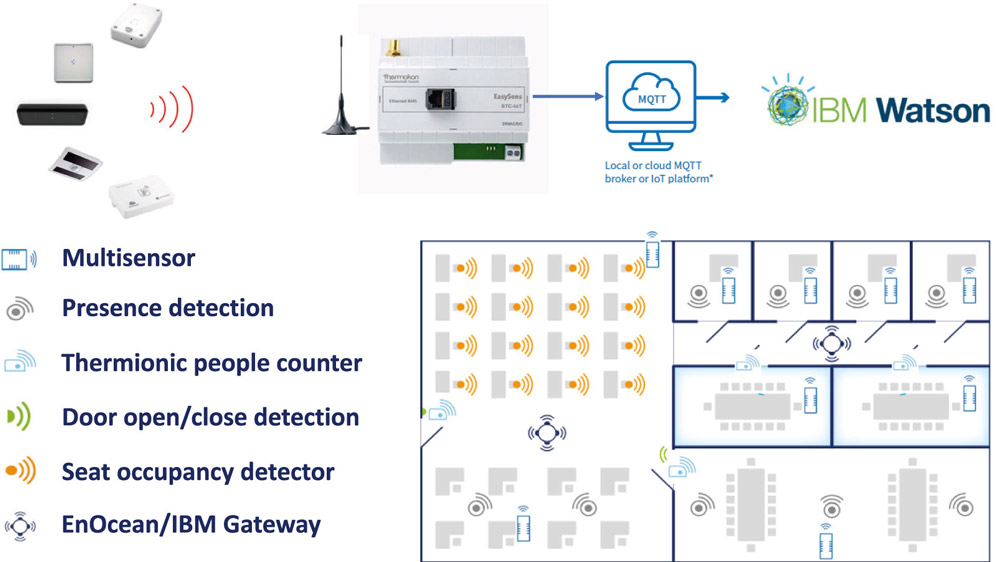 Challenges
One of the challenges of this project was to integrate the existing third-party UPS and water leakage alarm information via the main controller so that alarms could be sent to facility managers via e-mail and SMS. A Modbus RTU/EnOcean bidirectional gateway was adopted so that the Modbus alarm information from the old system could easily be forwarded via EnOcean, thus realizing the perfect integration of all the new and old systems.
Self-powered wireless solutions
Thanks to the sub 1 GHz band (ISO/IEC 14543-3-1X), the EnOcean wireless standard is perfectly suited to use in building automation and smart homes worldwide. In contrast to other wireless products that require batteries with their associated maintenance problems, EnOcean-based devices are self-powered and enable a "fit and forget" sensor solution. Energy harvesters gain energy from the surrounding environment, including motion, light, and temperature differences, to power wireless modules. This energy harvesting principle makes the devices maintenance-free.
Connected to the cloud
The IBM Watson IoT Platform is a fully managed, cloud-hosted service that makes it simple to build and deploy apps for IoT devices, sensors, and gateways. When combined with the IBM Bluemix® environment and secure Watson APIs, the platform allows integration and performs predictive, cognitive, and contextual analytics to improve decision making. Organizations are able to connect devices easily and securely, from chips and intelligent appliances to applications and industry solutions. The IBM Watson IoT Platform is scaled by means of cloud-based services and uses rich analytics, thus providing organizations with new insights that support innovation and transformation. IBM TRIRIGA serves as a single system for managing facility lifecycles.
This project in Guangzhou is the first implementation of EnOcean technology and an IBM cloud service integration solution in mainland China. The solution has a variety of use cases such as asset management, ambient assisted living, and insurance, hotel, and campus projects.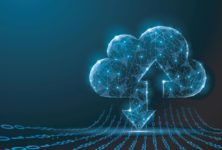 Smart Spaces